How the Concacaf League experience pushed the Canadian Premier League forward
---
When Ariel Soto's penalty eluded the outstretched leg of Callum Irving to secure Herediano's victory on penalties, it wasn't just the end of Pacific FC's Concacaf League campaign. It was the final moment of action a Canadian Premier League side will ever see in the competition.
The Concacaf League, which debuted in 2017, will cease to exist in its current form next year as the continental governing body instead announced an expanded Champions League format. The Canadian Premier League will have heavy involvement in that competition, as both the regular season and playoff champions qualify for round one of the CCL. The Canadian Championship winner will also still be awarded a berth.
But as the CPL took its first steps into international competition, the Concacaf League proved to be a critical learning experience. It allowed the young league to prove its legitimacy against some of the most storied clubs in the region, and it was a chance for players and teams to test themselves in multiple environments and against a different calibre of opposition.
While it ultimately ended in heartbreak for Pacific on Tuesday night, they went down fighting, consistent with the continually impressive way that Canadian Premier League sides have demonstrated their quality, and the quality of soccer in this country, in the competition.
---
RELATED: 10-man Pacific fall to Herediano on penalties in gutsy Concacaf League performance || Match Analysis: CS Herediano 0-1 Pacific FC (1-1 agg., 6-5 on pens.) — 2022 Concacaf League (R16 Leg 2)
---
In its fourth season as a club, Pacific took a Herediano side — with several players who will likely soon be headed to a World Cup, and with a storied 101-year history of both domestic and continental success, including winning the Concacaf League in 2018 — to the brink. They did so while playing down a man and a goal on aggregate, in a hostile away environment in Costa Rica.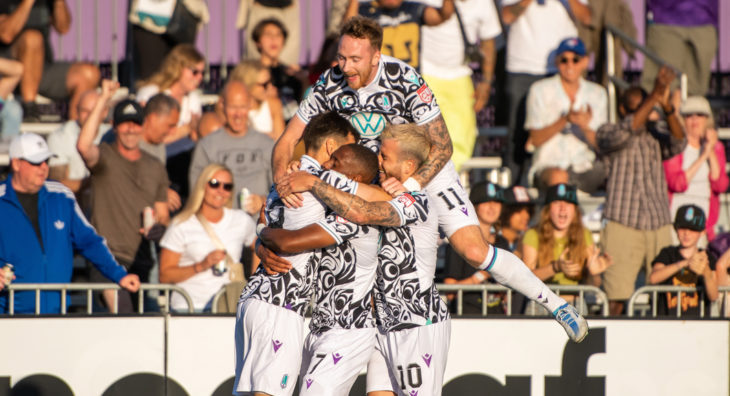 "It shows how far we've come as a league and how far we've come as a club," head coach James Merriman said after the match. "We're proud to be a part of it, and I thought we did show our quality against a very, very strong team. Herediano has had success in this tournament, and this is our first experience. We've gained a lot of growth, we've gained a lot of experience, and for some of our young Canadian players that's what this league was created for."
Prior to Pacific's foray into Concacaf League, it was Hamilton's Forge FC who proudly represented the Canadian Premier League in the competition. They made their debut in 2019, defeating Guatemalan side Antigua in the preliminary round before matching up against Honduran side Olimpia in the round of 16.
While they ultimately fell 4-2 on aggregate to Olimpia, the home leg provided the first of a series of stunning results they secured while playing in the competition, as they beat the Honduran giants 1-0 at Tim Hortons Field. Chris Nanco scored the winner, while Triston Henry made a memorable penalty save.
After that match, it was clear that Forge coach Bobby Smyrniotis understood the magnitude of the moment. Visibly emotional, Smyrniotis came over to personally thank the Forge supporters' section, even bowing to the fans for their efforts over the course of the game.
"Look how far we've come," said Smyrniotis after that match. "Last year, we didn't have a league; we weren't playing in these competitions. The majority of these players weren't playing at this level, and here we are now, in the round of 16, and now we've got a great result against a historic and great club. That's the significance of where we're going, not just here at Forge, but in Canadian soccer overall."
The next year, Forge would go one better, advancing to the quarterfinals where they tasted penalty shootout heartbreak of their own against Haitian side Arcahaie. They followed that up with an equally frustrating 1-0 loss to Honduran club Marathón in the play-in round.
The league's most memorable moments to date in continental competition, however, came in 2021. Forge was again able to get through the first two rounds, including an impressive 2-0 victory on the road in Panama in the round of 16 against Independiente despite Mo Babouli being sent off just before halftime.
Their run again looked to be over in the quarter-final round after they lost 3-1 to Costa Rican side Santos de Guápiles on the road. But under the lights of Tim Hortons Field two weeks later, they picked up a stunning 3-0 home victory to advance to the semi-finals for the first time. While they would ultimately lose in that round on away goals to Motagua, the result qualified them for the Concacaf Champions League where they were able to pay a visit to the historic Estadio Azteca earlier this year.
As Smyrniotis mentioned all those years ago after his side's first big victory in the competition, the CPL's run in the Concacaf League was a sign of where Canadian soccer is going. Not only was it about who they were able to beat so quickly into the league's existence, but also where they were able to beat those clubs. Pacific's 1-0 win over Herediano on Tuesday was the eighth time a CPL side picked up a result (win or draw) on the road in Concacaf.
Doing so had previously always been an issue for Canadian soccer at every level, be that youth, national team or club. But CPL clubs went bravely into whatever environment and hostilities they were faced with and continuously stepped up to the challenge.
These results also offered the league legitimacy. Like the wins over the Vancouver Whitecaps of MLS, or Forge taking both CF Montréal and Toronto FC to penalties, the Concacaf League provided a point of reference to the rest of the soccer world of just how good the level of play was within the CPL.
So as the Concacaf League chapter of the Canadian Premier League comes to an end, it does so on a bittersweet note. A heartbreaking loss, to be sure, but each game Forge or Pacific played represented a crucial step in the growth of this young league.
As the competition gets more difficult and the stage gets even bigger in the Concacaf Champions League, CPL clubs can go in with every bit of confidence that they can compete with the region's best.