Match Analysis: Pacific FC 3-3 Cavalry FC — CPL Match #49
---
Final Score: Pacific FC 3-3 Cavalry FC
Goalscorers: Daniels 5′, Dos Santos 42′, Diaz 75′ ; Klomp 45+3′, Escalante 50′, Pepple 56′
Game of the 2022 season: 49
CPL match: 299
---
Match in a minute or less
On the eve of a long weekend in Canada, Pacific FC and Cavalry FC ensured that Canadian soccer fans would get those festivities started off on the right foot, combining for a thrilling 3-3 draw at Starlight Stadium. 
Right from the first whistle, both teams came flying out of the gates, as Pacific made it 1-0 early on through Djenairo Daniels, before making it 2-0 through Gianni Dos Santos shortly after Cavalry's David Norman Jr and Pacific's Manny Aparicio were both sent off. 
From there, however, Cavalry took over, nabbing three straight goals through Daan Klomp, José Escalante and Aribim Pepple to make it 3-2, as they looked to extend their winning streak to six games, and overall undefeated run to nine. 
From there, though, they'd then have to settle for just keeping the undefeated run alive, as Pacific tied things up late through Alejandro Diaz, who re-staked his claim atop the CPL's golden boot race with his league-leading seventh goal, ensuring that the spoils would be split in this one.
---
Three Observations
Top of the table clash breeds instant CPL classic:
Heading into this game, the 299th in the history of the CPL, all of the ingredients were there for a classic. 
A top-of-the-table clash, one between two teams in contrasting form, you just wondered if those opposites would attract and come together to create one feisty concoction of a match, as Cavalry looked to remain red-hot, while Pacific tried to snap a long winless drought. 
Especially with the game being at Pacific's Starlight Stadium, a ground that has seen its fair share of memorable games over the years, it only felt right that it'd play home to another fun game, especially with the league on the verge of a big milestone. 
At the same time, no one could've predicted what was about to come in this one. 
Right from the first whistle, both teams came flying as if shot out of a cannon, eager to show why they both sit where they do in the standings, hungry to prove their credentials to both their opponents and the rest of the league. 
As a result, that paved the way for an entertaining first half, one that saw Pacific storm out to a 2-0 lead, before seeing Cavalry nick one back right before half, with each team trading red cards along the way. 
Then, not content with that, they then kept that pace up in the second half, as Cavalry completely turned around the game, grabbing a 3-2 lead, before Pacific tied it up late on, leading both teams to trade chances right to the end. 
Because of that, when the final whistle blew, it felt like the players weren't the only ones left catching their breath, as anyone watching certainly would've struggled to not get drawn into the drama of such an occasion, one that gripped the attention of everyone right to the final whistle. 
Just a look at both coaches, Cavalry's Tommy Wheeldon Jr. and Pacific's James Merriman, who shared a bit of a laugh after the whistle, best summing up how to feel about this game, one that certainly had it all.
"We were (actually) having a pop at each other on the sidelines when things were going off (during the game." Wheeldon Jr. said of the post-game encounter. "We're both competitors, they're the reigning champions, they've got the gold on there above their crest and we're aspiring to be that."
"So I think when we've come into their house and given it to them, and I think we've earned their respect and then afterwards when the whistle blows, we shook, and said 'I'll see you next time'."
"I don't know if we've had a game yet this season with that much intensity," Merriman added. "So we both looked at each other, said 'great game, fair result', and wished each other all the best."
Therefore, although the 3-3 result might not have been one that changed the overall complexion of the table too much after this, it was a result that will be remembered around the league, 
In a game between two heavyweights, they made sure to swing until their arms had nothing left to give, marking a game that many soon won't forget for a myriad of reasons. 
"Yeah surely as a fan that's an unbelievable game to be at," Cavalry's Charlie Trafford said afterwards. "There's fighting, there's goals, there's character – it was unbelievable to watch, and it was good marketing for the CPL."
"We wanted to bring that fire, we wanted to bring more intensity to the match," Merriman added. "Especially coming off of our last performance. And I think the way we started, and how Calgary plays with that intensity, that made the game go how it went – it was overall a very competitive match."
Pacific's high press snaps goal drought, causes problems for Cavalry:
Usually one of the highest-flying teams in the league offensively, Pacific entered this game having done something not often seen from them – go three games without scoring a goal, meaning that they entered this game having not scored in just under 300 minutes of play. 
As a result, you'd imagine that they were going to try and find a way to change that, quickly, although you figured they'd be in tough to do that against a stingy Cavalry defence. 
Which, to give them credit, they did, as they came flying out of the gates, bringing the pressure to the guests, allowing them to grab the early lead through some nice pressure from Djenairo Daniels early on. 
From there, that opened the floodgates, leading them to score three goals in this one, something they haven't done since April 17th, showing how much they needed a performance like that.
"We were aware that we hadn't been scoring lately," Diaz said after the game. "So that was an important thing to do in this game, and I think we showed it (with our goals), so we're happy because of that."
Yet, that just shows the intent that they had heading into this game. On a run of six games without a win, and having not scored in their last three games, they knew that they needed a statement game in order to begin their climb back up the table, having slowly slipped from first place to just three points off of sixth place at kick-off. 
Therefore, they came out with a hunger, eager to try and take the game to their opponents, with there being no better example of that than Daniels's goal, as he just used sheer will to win a ball high up the pitch and then slot it home. 
"He's very aggressive in his pressure and his defending," Merriman said of Daniels's goal. "He does that every day in training, and as you saw in the match today, he got a reward for it with the goal."
Because of that, it led to a night to remember for them in terms of goals, as they were able to generate 2.2 Expected Goals (xG) off of 13 shots (four on target), which is never a bad tally to finish with, all things considered.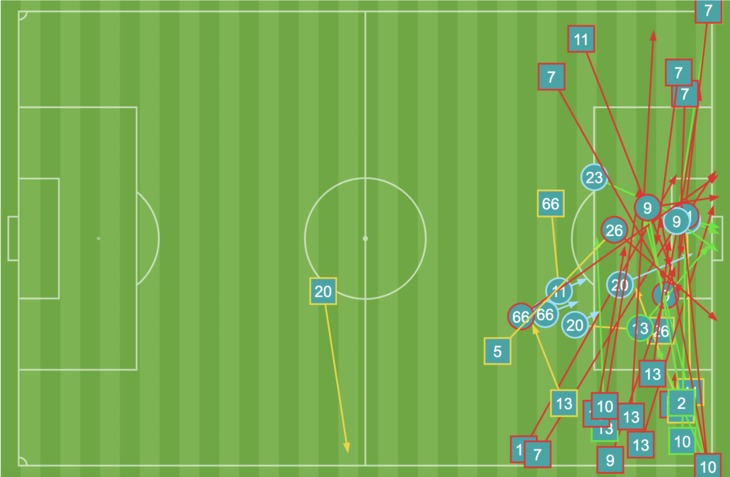 Of course, they were left frustrated with their play at the other end, as they also gave up three goals, throwing away a two-goal lead, but considering the form that they're in, sometimes it's all about appreciating the small victories, of which their offensive burst can most definitely be considered. 
With some big games looming, a game like this against a red-hot Cavalry side is never anything to scoff at, potentially giving them the push they needed to get back to winning ways as the calendar flips to July. 
"I think that's good for us in terms of our attacking," Diaz finished. "(But yes), we also have to take care more of our defence, as our attacking and defending needs that balance between the two."
Cavalry's set-piece dominance pays off in comeback: 
It might not have been how they drew it up, but for Cavalry, they kept the good times going on Thursday, extending their league-record undefeated run to nine games. 
They were left disappointed, as this draw meant that they also saw a five-game winning run come to an end, but they otherwise had a lot to be happy about, especially considering the fact that they took points after going down away to one of the team's with the best home records in the CPL. 
But thanks to their dominance on set-pieces, they were able to pull that off. 
Down 2-0 through 45 minutes, it felt like they were soon about to see their undefeated run come to an end, left to be officially archived in the history books, drying the ink on their record. 
Then, they won a free kick in a dangerous area. There, up stepped Ben Fisk and José Escalante, who decided to play quickly, Fisk doing well to slip in Escalante, who lofted in a ball that found the head of Daan Klomp, who wasn't going to miss from there. 
Shortly afterwards, on the other side of halftime, Escalante then once again made things happen, stepping up to take a free-kick right at the edge of the area, curling it home with precision to tie things up. 
Through that, it paved the way for Cavalry to come alive, grabbing the lead soon after, and while they weren't able to keep it (with a Pacific set-piece ironically proving to be their death knell), there was no doubting how important set plays were to this comeback. 
"Yeah, we knew we could attack them in open play and attack them in set plays," Wheeldon Jr. said of his team's strong attacking set-pieces. "The confidence, you can see it when we had three lads stand over the ball for Jose's (goal), that was one where we felt something was there, and that's a belief that we've got to keep feeding."
Yet, that's just a staple of Cavalry's game. Able to hurt you in so many ways, be it in the attack, defensively, in midfield, or in open play, set pieces are just another piece of that puzzle. 
Graced by the presence of some big bodies, such as Klomp, Karifa Yao and Mason Trafford, among others, as well as some technical maestros such as Escalante, Fisk and Ali Musse, they know that they have the weapons to hurt teams in that area. 
Therefore, they try to make teams pay when they foul Cavalry, giving them an edge, especially given how physical Cavalry likes to play, leading teams to play a little frustrated. 
Just ask Pacific, whose intent to match Cavalry's physicality led to them giving away those free kicks, demonstrating how important they are to Cavalry's game. 
All part of Cavalry's unique multi-pronged approach to games, it helps explain why they are where they are in the standings, with their comeback in this game being a prime example of why they've been the team to beat in the CPL right now. 
"We're a big team," Trafford said of his team's set-piece ability. "We work hard on the set-pieces because of that, we put a lot of detail into it, and it shows we've been getting success now."
---
What's next?
Having made it through this two-game homestand, it's back on the road for Pacific FC, who will travel to Alberta to take on FC Edmonton at Clarke Stadium on Saturday, July 9th (1:00 p.m. PT). 
Watch all matches live on OneSoccer. In addition to its website and app, OneSoccer is now available on TELUS channel 980 and on Fubo TV. Call your local cable provider to ask for OneSoccer today.