Canadian Premier League Unveils Macron 2020 Club Away Kits
news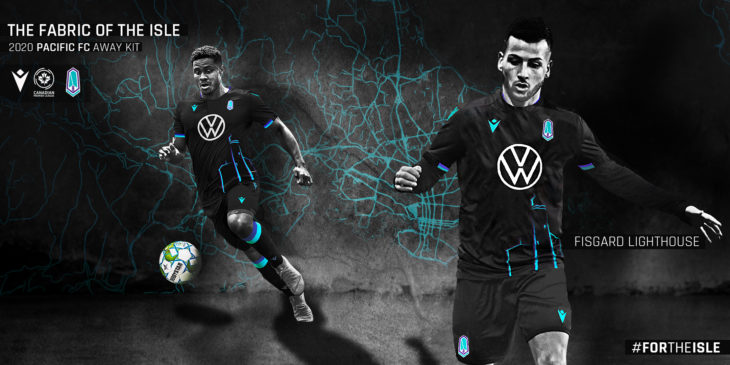 Toronto, ON – (July 30, 2020) – Today, the Canadian Premier League (CPL) and official league technical provider, Macron, a leader in the international teamwear market, unveils the 2020 season Away custom-designed playing kits for the Canadian Premier League eight clubs HFX Wanderers FC, Atletico Ottawa, York9 FC, Forge FC, Valour FC, FC Edmonton, Cavalry FC and Pacific FC squads.
The League's second season is no different than the inaugural season when it comes to kit design.  Each kit's look incorporates the symbolism and identity of the club within the design with a unique spin for 2020. This season all eight club Away kits focus in a new direction.  Collectively all 8 "City Edition" Away kits are all black (jersey, shorts and socks) and each club jersey design is connected by a theme that is unique and special to their city identity and is distinguished by the unique stories behind the design.
These kits were designed before everyone's lives were changed by COVID-19 however, now, the design theme is even more relevant – celebrating your city and demonstrating city pride is more important than ever.
The team-authentic City Edition Away jerseys by Macron are available now online for purchase here.
-30-
About the Canadian Premier League
Canadian Premier League (CPL) is Canada's professional men's soccer league that debuted on April 27, 2019. Headquartered in Toronto, ON, the Canadian Premier League features eight clubs from coast-to-coast. For updates and more information on the CPL, a league for Canadians by Canadians, visit CanPL.ca.
Connect with us on Twitter: @CPLsoccer and #CanPL
About Macron
Macron (www.macron.com) is a leading European company in the production and sale of active sportswear, operating in four main business areas: Teamwear, sportswear and accessories for team sports (football, rugby, basketball, volleyball, baseball, handball, futsal, running); Merchandising, official kits, free time products and accessories for the supporters of the club sponsored by Macron; Run & Train, technical apparel for individual runners and for fitness; Athleisure, sports inspired apparel for leisure time, for those who wish to wear Macron outside pure sporting activities. Macron owes it success to the capacity of interpreting the needs and demands of those who do sport, developing high quality and technicality products.