Injury time equalizer sees Pacific FC draw York9 FC at The Island Games
---
All you need is one… and then another.
Chances were few and far between for York9 FC and Pacific FC Tuesday at The Island Games, as they each managed to convert just once in battling to a 1-1 draw.
The Tridents will be rueing their misses chances – two clear-cut opportunities in particular – in a cagey second contest of the 2020 Canadian Premier League season for both sides.
Y9 and Pacific went toe-to-toe in this one, but neither side succeeded in meaningful penetration into the opposing box in the first half, mustering only a handful of touches between them.
Alessandro Hojabrpour sent the first clear-cut chance of the game agonizingly wide after connecting on a header off a Marcel de Jong cross. Tempers flared by halftime when a controversial drop ball left Pacific FC fuming.
The second half gave PFC a bit more joy as they pinned the Nine Stripes deep in the first 15 minutes.
Marco Bustos, who shifted from a false nine role to the right wing at half, broke through on a lovely one-two pass from Jamar Dixon just seconds after play resumed but the chance went begging. Victor Blasco had another opportunity for Pacific when, with a gaping net, the Spaniard skied an opportunity from seven yards out.
Michael Petrasso made his debut for York in the 60th minute. Alvaro Rivero also came on, a move that paid off for coach Jim Brennan in the 70th minute. A long ball landed to the former Real Madrid youth product who made no mistake with his left foot, smashing home the opening goal of the game.
The match wouldn't properly open up until injury time when a 92nd-minute Pacific corner led to the tying goal from Lukas MacNaughton, wh deflected it past York goalkeeper Nathan Ingham. A fitting end to a tight matchup.
Both sides return to action on Saturday. York9 will kick off against Valour FC (1:00 p.m. ET/2:00 p.m. AT), while Pacific takes on Forge FC (4:00 p.m. ET/5:00 p.m. AT).
---
RELATED READING: 2020 CPL season: The Island Games
---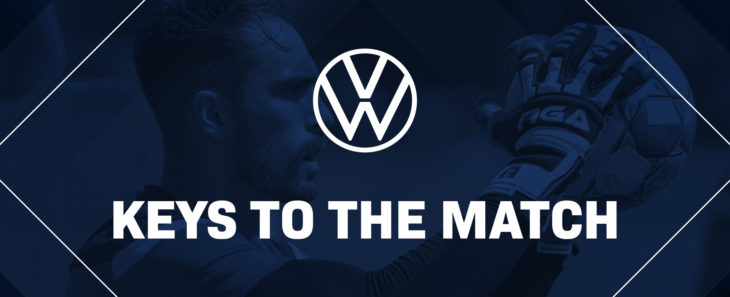 York9 FC
Curb mental lapses – The Nine Stripes were flat-footed at the restart, looking scattered as Pacific swapped Bustos and tried more balls in behind. Ultimately, Jim Brennan's side failed with this key, which was inspired by the mental lapses in their second-half of their first match of the season.
Execute chances – Consider this as well-executed thanks to Rivero's goal. While Y9 only produced one decent chance, they took advantage of it, and that's all you can ask for with this key to the match.
Pacific FC
Defend the midfield – A job well done for Pacific. Jamar Dixon and Matthew Baldisimo snuffed out Y9 all night, forcing an added focus on the wings. Their dominance was shown in York's goal, even, as defender Roger Thompson elected to thump the ball over the midfield entirely.
Quick out of the gates – The Tridents failed to get off to a fiery start, forced away from the opposing box by York9's stoic backline. PFC's first shot came in the 26th-minute – their first touch in the opposing box came after 18 minutes.
---
BOX SCORE
Goals
29'– Alvaro Rivero (York9 FC)
90'+2′ – Lukas MacNaughton (Pacific FC)
Discipline
10' Yellow – Victor Blasco (Pacific FC)
83' Yellow – Joseph Di Chiara (Pacific FC)
83' Yellow – Marco Bustos (Pacific FC)
---
Top Performer
Marcel de Jong – Pacific FC: When Pacific FC was floundering offensively, veteran Marcel de Jong was as steady as you like. The left fullback was a mastermind up the wing, winning the ball high up and was unlucky not to get an assist (on Hojabrpour's miss), picking out the PFC youngster with a pin-point cross. De Jong ended with a match-high three key passes, three completed crosses, and six gained possessions.